Instagram enables everyone to express their creativity. The app focuses on images and moving images. These can be presented in different ways. Some people follow a precise scheme that makes the posts on the Instagram profile look uniform, while others post according to their personal whim, without any further connections. The difference can be seen particularly well from the perspective of the viewer.
The visual language and design of Instagram can also be used wonderfully for corporate communication purposes. But what about the connections between the individual posts there? These can be expressed to the viewer in three different ways.
1. Through thematically/visually compatible content.
2. Through a creative posting scheme that runs through the entire Instagram profile.
3. By using coordinated colors.
These aspects make it possible to create a "uniform whole" on the outside. The self-portrayal on Instagram can also be tailored to the corporate identity of a company. Colors and certain themes can be used in combination to convey feelings to followers and offer them added value.
analyzed Instagram profiles
Out of interest, we took a closer look at our Instagram profile and compared it with our CI. Our CI colors are made up of a very specific turquoise, white, pink and light blue, but does this also reflect on our Instagram profile? We tested it with the tool https://colorkuler.com/ ! colorkuler can determine the color of your last 16 posts and summarize it in one color.
We are "grey" – Doesn't quite match our colors unless you think of it as gray being a mixture of blue and other colors. The color gray is associated with words like "neutrality", "inconspicuousness", "restraint". Can we identify with that? nope! It's interesting to know, but through our Instagram account we try to take you into the world of crowdmedia, what we experience, how we experience it and how much fun we have with good work and with our troupe. The quintessence: The gray is also in the spirit of our CI, because we concentrate more on the visual language than on the image design.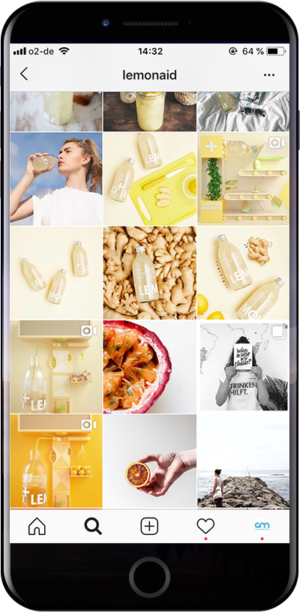 Colors and Feelings on Instagram
Color sensations create feelings and are particularly attractive to the observer in certain combinations. You can take advantage of this and underline your own visual language with color schemes. It should be noted that colors have an intense subconscious meaning that affects each of us.
Yellow, for example, gives the viewer a happy, optimistic feeling and the bright, luminous aspects make the color particularly eye-catching.
Lemonaid in combination with yellow reminds us of summer, sun, sunshine and lemon. The yellow component not only associates warmth with us, but also reminds us of what it feels like to drink a refreshing soda on a warm day. Good job, @lemonaid , great combination of imagery and color in the feed.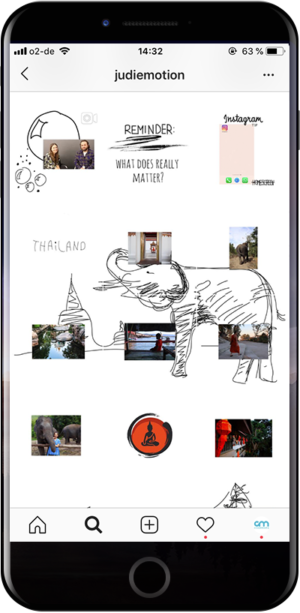 Creative options when designing your profile
Everyone can be creative on Instagram not only through the "image language & image color combination", the image formats also offer plenty of room for artistic self-expression. You can add a recognition value e.g. B. also create a repeating scheme in the feed. A particularly inspiring example of this is  @judiemotion 's Instagram profile , which literally breaks the mold with her drawings and places pictures in a very special context.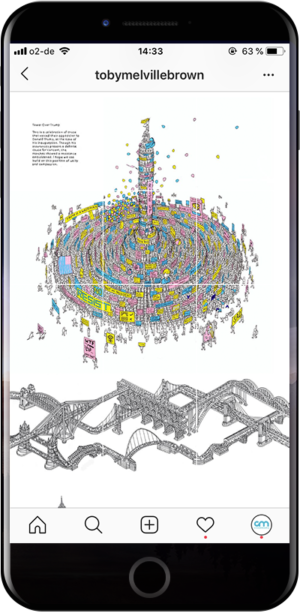 @tobymelvillebrown also likes to use the so-called "puzzle feed". This shifts the focus from the individual image to the greater importance of the profile as a coherent whole. A "large" image is thus divided into small tiles. The individual image posts stand out in the feed due to their incompleteness. On the one hand, it can be caused by followers visiting your profile to see the big picture instead of scrolling over your picture in the feed. On the other hand, there is a risk that not many will perceive the coherent image, since, as is well known, the reach is in the feed and not on the profile. Nevertheless, you can stage pictures aesthetically on Instagram in this way.
"Instagram feed collages" like the creation of @simplywhytedesign also fall into this category . The special feature here is that when you look at the individual picture, it doesn't look as if there are other posts related to it. The individual images are given a background, which results in an image collage when looking at the profile – in terms of color and pattern.
You can give your Instagram account a personal touch not only through artistic performances. Repeating image posts also make your feed look interesting and appealing to followers. In this way you can, for example, set accents with regularly repeated and color-coordinated "Quotes" posts. Example: @dariadaria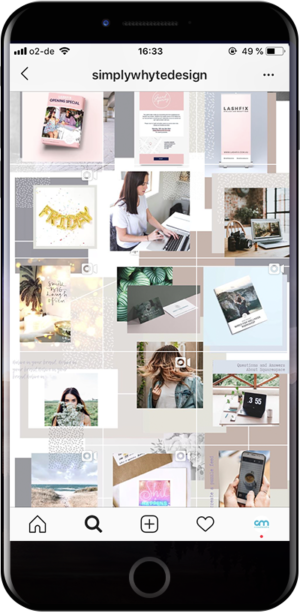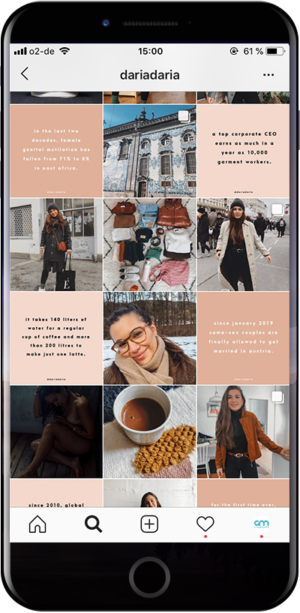 Create structure through coherent image posts
Instagram's square image format often doesn't quite do justice to panorama images. Either these are shown very small in the square, or part of the panorama has to be cut off. In order to let the pictures work in their entirety, you can spread them over three picture posts on the Instagram profile. Disadvantage: The individual images shift with each post and only become one again when three new images have been published. @Lorebackpacker accepts this and divides his Instagram profile into different location sections in this creative way.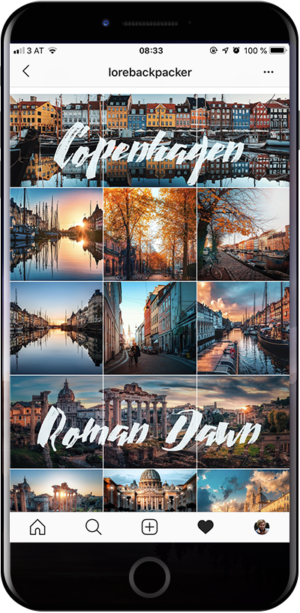 1,2,3, here we go
As you can see, there are many different examples of how you can creatively design and structure an Instagram profile. In my opinion, the combination of imagery and color is what makes it so special. However, there is a lot to consider and it certainly takes time to find and develop your own style. For an overview of how individual posts fit together, there are apps like UNUM.   In this app you can test image combinations and visually plan ahead.
With an Instagram profile nowadays, not only the feed posts are important, but the trend is moving towards the Instagram stories. You can find out what possibilities these offer you from Meli in her blog article  "Instagram Story, I know that" .